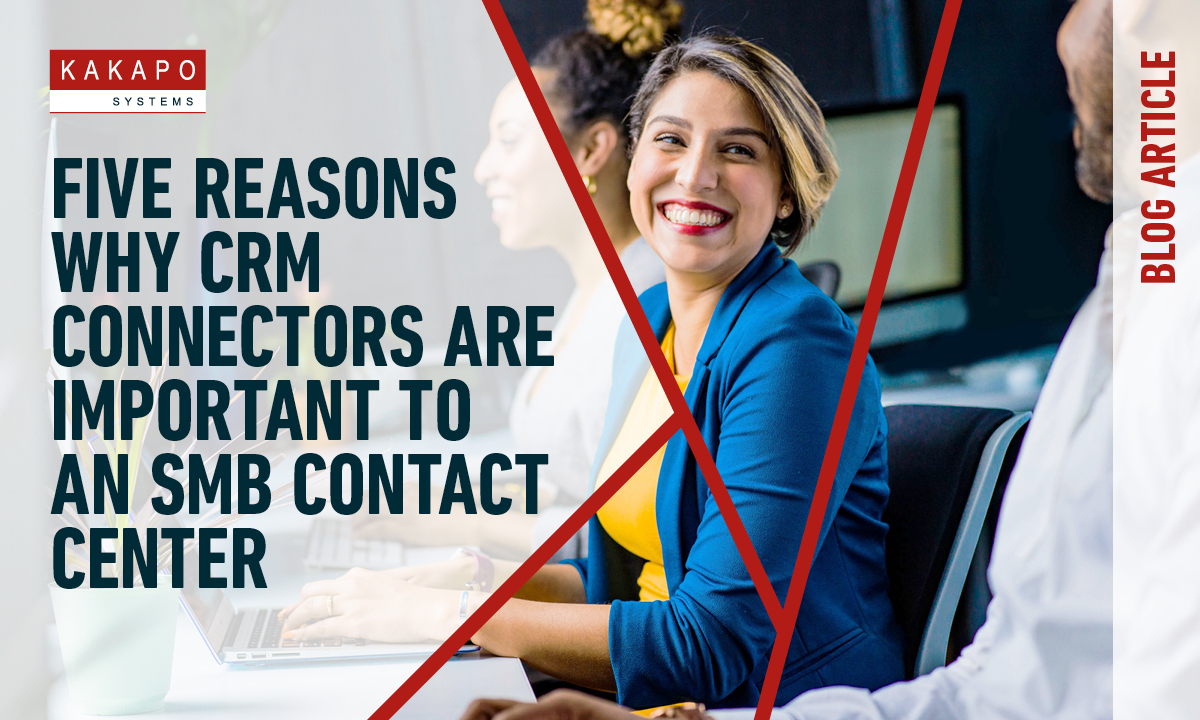 An excellent customer experience is paramount to a contact center and a key part of that provision is maintaining a healthy relationship between the business and the customer.
This is where a Customer Relationship Management (CRM) platform fulfils a crucial role for sales, allowing contacts to be logged and encounters to be journalled. In other words, a CRM is a digital version of what might traditionally be a salesperson's notebook or diary. Using the information, sales may be more carefully tracked and engagement with potential customers more closely monitored for a mutually shared positive outcome.
An SMB may be considering, or already using a CRM as a standalone system. However, unlocking the full benefit of a CRM for a contact center only arises after an integration of the two systems. This allows them to work homogenously from within the contact center interface.
In this article we explore how and why CRM connectors are of significant importance for an SMB contact center.
Enables Agents to focus on what matters.
If an agent can be considered a salesperson, and the CRM a digital representation of a meticulously crafted journal, then by allowing the journal to write itself, the salesperson can focus on the sale.
With CRM integration, many laborious tasks, such as call journalling, (that reduce the time agents get to spend doing what matters; communicating with customers), can be automated within the contact center. With CRM integration, many laborious tasks, such as call journalling, can be automated within the call center. This allows agents to spend more time doing what matters most – communicating with customers.
Call Prioritisation Rolls out the Red Carpet for VIPs
A promising lead may not lead to a successful conclusion if they end up on-hold in a busy queue during a call center peak.
CRM integration enables intelligent management of important calls. Contacts and leads can be prioritised, meaning that CRM users can be transferred to a VIP queue and calls flagged as important will go directly to an agent.
Dynamic Call Logging
Building and curating an extensive contact log is both ideal for a productive contact center but is also time consuming for the agents responsible.
Through integration, contacts can be logged into the CRM automatically and saved, allowing contacts to be searched for within the contact center interface and eliminating the need to process hop. Entire webchats can be saved into the CRM for revision, and should the need arise, details can be manually inputted into the call log by agents themselves.
CRMs Enhance Omnichannel
Omnichannel is a necessity for the modern contact center. Offering a variety of channels broadens the horizons of a business, enhancing the levels of communication between a business and its customers whilst enabling entirely new demographics to be targeted.
CRM integration that enables omnichannel logging, (so that customer emails, web chats and social media posts are also logged within the CRM), assists in providing the contact center a vital, single record of all customer contact.
Process Hopping
Time spent switching between different systems and applications, along with inputting data, can hinder an agent's ability to focus on customers. This hindrance is compounded further in situations where an agent pool might be relatively low.
CRM integration enables an agent to only be required to operate within the contact center interface. In this instance, all key CRM processes are able to be completed without the need to leave the contact center platform.