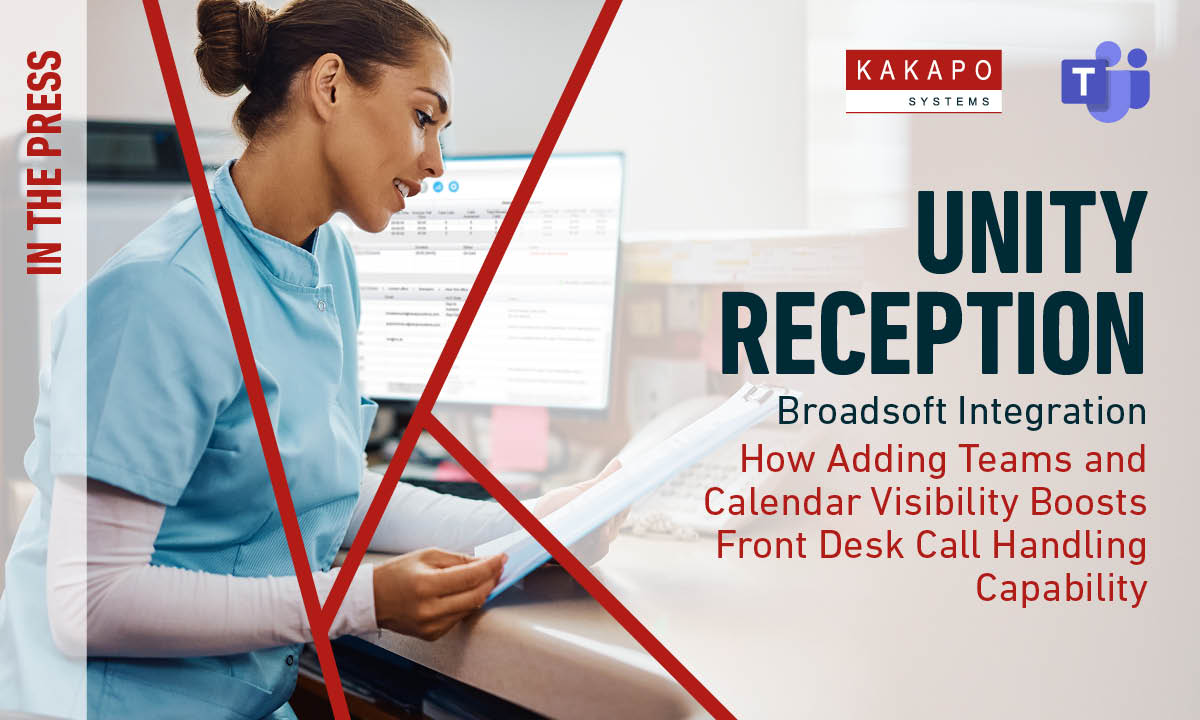 Read the article by UC Today 'BroadSoft Integration: How Adding Teams and Calendar Visibility Boosts Front Desk Call Handling Capability' based on an interview with our Commercial Director Steve Tutt.
Leading app provider Kakapo on its slick Unity Reception release that enhances the voice experience for all
Imagine enabling receptionists and call handlers to do their critical jobs even better.
To provide your end user customers' businesses with the ability to deliver an even richer, more efficient calling experience.
One of the tricks – as is now so often the case – lies in the ability to seamlessly integrate Microsoft Teams presence to their Cisco BroadSoft telephony system.
Do that, and call handlers get new, extra visibility. Colleagues' landlines may be showing on hook, but now new information reveals they are in fact unavailable due to either being on a Teams voice call or in a Teams meeting.
Better yet, colleagues' calendars are fully integrated and visible too, so receptionists can suggest informed call back times or even book calls to guarantee a future connection.
No more annoyingly unsuccessful redirect attempts. No more frustrated callers failing to get through. No more missed opportunities to project a slick and effective first impression.
Because those things matter, right? Because there is surely nothing more disappointing – for call handler and caller – if the person with whom they are trying to connect is otherwise engaged when it first appears they are free to take a call. From a reputational perspective, it looks disorganised and unprofessional.
The great news is that there's software that makes it possible to deliver on all of the above. All service providers must do is pick a partner with the smarts to make it happen.
"For any organisation, that first call interaction is crucial as it forms an initial impression in the mind of the caller which sub-consciously links to the quality of the brand and its products or services – that's why providing receptionists and call handlers with complete redirect availability visibility is so important," says Steve Tutt, Commercial Director at leading BroadSoft application innovator Kakapo, whose white-label Unity Reception app has just launched a Microsoft Teams O365 integration.
"It enables organisations to demonstrate that their systems are joined up and organised, which simultaneously improves the practical handling and management of calls as well as the wider caller experience."
In the case of Kakapo's Unity Reception app integration in particular, call handlers' existing telephony platform interface denotes if a colleague is either engaged on their BroadSoft extension, engaged on a Teams call, or free to take a call via either channel. With just a few clicks, the call handler can also interrogate the colleague's calendar to see, for example, whether they are on leave or to identify a time when they will be free. Further granularity enables the booking of a call by a receptionist which drops seamlessly into relevant calendars.
"If somebody calls and says: 'Hey, can I speak to Steve Tutt?', a receptionist can see instantly that my BroadSoft extension is showing green but that I'm on a Teams call," says Tutt.
"They can then say:' Sorry, Steve is not available right now but I can see he has availability tomorrow after 2pm'. Or, they can look closer at my calendar and say: 'I'm sorry, Steve's really busy on calls all day but it looks like between 10 and 12 on Wednesday is a good time to try as he has nothing on his calendar.'
"For the receptionist or call handler, this is an amazing new tool because it enables them to become instantly better at what they do. They are able to field calls more effectively and efficiently, and put more people through to more people. Just being able to share with a caller a full picture and understanding of a colleague's status makes that interaction much richer. It somehow encourages callers to have confidence in that organisation."
Of course, in today's increasingly cloud-powered world, this enhanced functionality delivers a positively-disproportionate – and highly welcome – return on investment. More of us work remotely; more of us collaborate and converse via Microsoft Teams; fewer of us default to our deskphone extension.
In short, we can often be in when we are out, and out when we are in.
Enabling our call handlers to keep up can add huge value.
To learn more about how Kakapo can help your customers' customers enhance their BroadSoft smarts, click Unity Reception
Original article  'BroadSoft Integration: How Adding Teams and Calendar Visibility Boosts Front Desk Call Handling Capability' featured in UC Today, written by Simon Wright published in October 2023