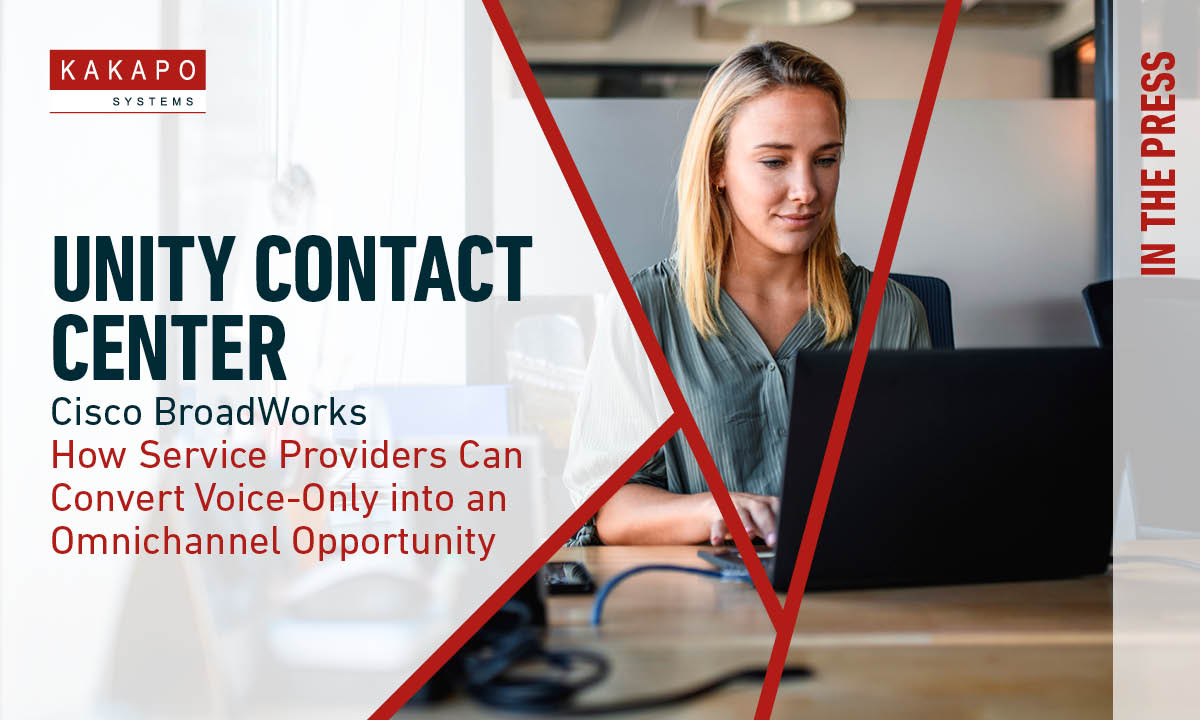 Read the article by UC Today 'Cisco BroadWorks: How Service Providers Can Convert Voice-Only into an Omnichannel Opportunity' based on an interview with our Commercial Director Steve Tutt.
Leading enterprise application innovator Kakapo Systems on how an easy upgrade transforms one of the world's favourite communication platforms
If you want customers to stick, you have to give them what they need.
It sounds simple, but when what they need is constantly evolving, it can be a challenge to ensure that your offering keeps pace.
In the communications technology space in particular, that evolution can produce a compelling reason for customers to look elsewhere if their stack no longer stacks up. Indeed, in some cases, the functionality gap between their existing system and one which delivers essential new services may be so big that they have little choice but to write off any current investment and start from scratch with a different provider.
So it is with Cisco BroadWorks users.
That most trusted, popular and uncomplicated of cloud-powered voice communication platforms is deployed by millions of enterprises the world over via service providers for whom customer stickiness is critical.
However, voice alone no longer cuts it.
For enterprises to communicate effectively with their end customers, an omnichannel approach is now table stakes – which, for service providers that can easily enable the BroadWorks platform to support one, represents a huge opportunity.
All they must do to capitalise, is join forces with a technology partner that has the solution and the smarts to make it happen.
"The BroadWorks platform is brilliant but it is voice only – which means providers whose small-medium-sized customers in particular now want to understandably incorporate email, SMS, webchat and all the other essential communication channels, must either persuade them to re-platform or risk losing them altogether," says Steve Tutt, Commercial Director at leading enterprise communication application provider Kakapo Systems, whose game-changing, Cisco BroadWorks-powered 'Unity Contact Centre' conversion offers an altogether more appealing option.
"By adding omnichannel capability, we can enable providers' users to remain on the platform they know and love, and to continue to sweat the investment they have made in it. That is obviously great news for those end users, but it also cements the provider-customer relationship too."
The Kakapo Systems solution cleverly and seamlessly expands the existing BroadWorks voice calling interface by adding email, SMS, messaging, web chat, and social media interactions – all of which can then be processed by a single agent without the need to refer to any separate, third-party application on a different screen.
"Suddenly, contact center agents are not just taking phone calls, they're now interacting via whatever channel the customer prefers," says Tutt.
"Those contact centers are often key to enterprises' service levels and revenue streams, so it makes sense not to outsource any element of them because, if issues arise, a ticket has to be raised with the third-party provider and immediately there is complexity. It's far better for them to have complete control over the entire platform they know and understand, and for all communication, no matter what type, to occur within it."
Importantly, as well as helping retain existing BroadWorks user customers, the ability to offer an omnichannel conversion option can also be the basis of a compelling pre-sale conversation with prospective new ones, particularly in the SMB space.
"Every business of every kind and size has a website, so every business needs webchat," says Tutt.
"All of the other non-voice communication channels are also essential today, so the omnichannel play is a powerful one. Consumers just expect to be able to interact however and whenever they want, and they don't like disjointed fragmentation. Also, agents can't do their job well if they are having to swivel chair between different systems.
"Enabling communication via multiple, disparate, third-party providers is therefore easy to discredit, whilst an all-in-one-place BroadWorks option should be appealing to businesses looking for simplicity."
The voice clout of global tech giant Cisco plus the power of feature-rich omnichannel functionality?
Surely that's a combination capable of delivering huge wins for all parties…
To learn more about how Kakapo can help your and your customers' businesses leverage the might of its 'Unity' Cisco BroadWorks-powered contact center solution, click here.
Original article: 'Cisco BroadWorks: How Service Providers Can Convert Voice-Only into an Omnichannel Opportunity' written by Simon Wright as featured in UC Today in November 2023