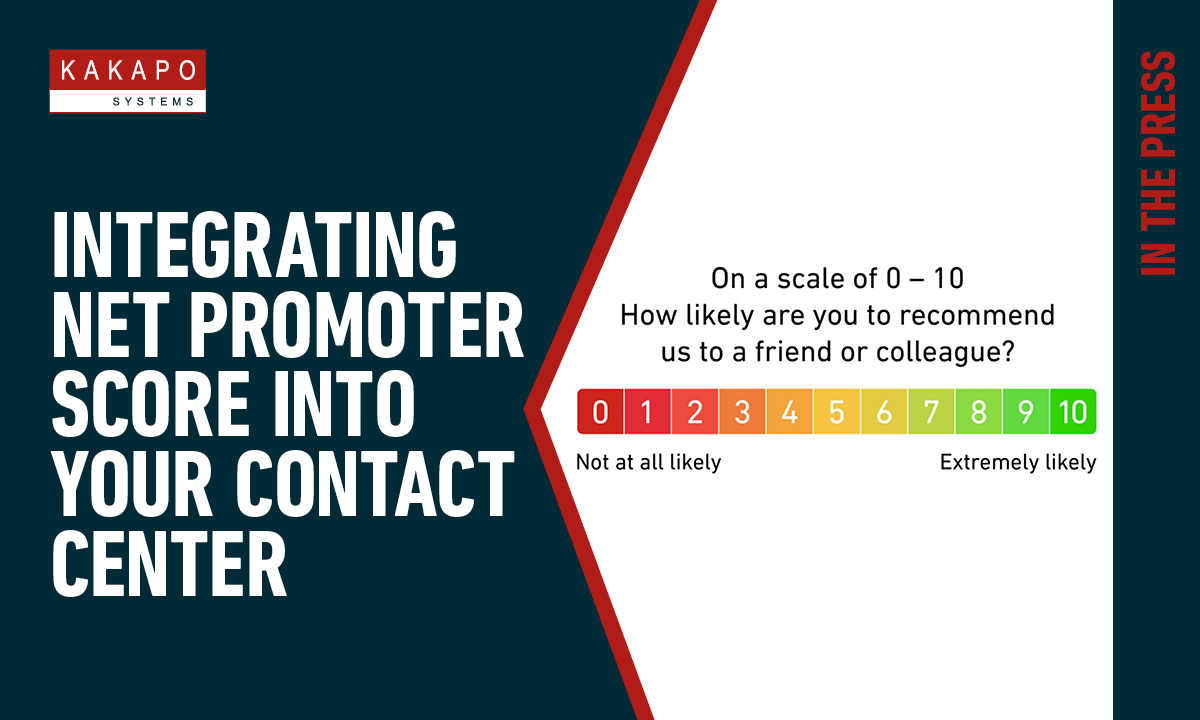 Article | Integrating Net Promoter Score into your Contact Center | As featured in UC Today
Leading BroadSoft app innovator Kakapo Systems on how service providers can enhance their offering via clever Vision360 service level aggregator
Calls received, calls answered, calls abandoned – those old skool metrics are like food and drink.
They talk to the volume and scale of organizations' customer communications and, yes, the effectiveness of the frontline agents tasked with fielding it all.
For contact center supervisors and the c-suite, the stats are their daily, sometimes hourly, go-to reference point in the relentless pursuit of optimum performance. The internal SLA, if you will.
But what if those analytics contained a new, far more potent metric? Part of the same reporting interface; right there alongside all the other important numbers, but an additional, richer representation of the truth?
Enter the Net Promoter Score. The B2B equivalent of Trust Pilot; the customer's feedback on an organization's communication effectiveness. Freely volunteered, honest, transparent: surely adding significant value to all of that more traditional performance analysis.
And, importantly for communication service providers, new functionality that surely differentiates their wider offer.
"If an organization's service level based on traditional call analysis is 93%, that's fantastic, but if its customers' actual experience is a five out of 10, that organization has a problem," says Steve Tutt, Commercial Director at leading enterprise communication application provider Kakapo, whose white-label Vision360 analytics and reporting solution for Cisco BroadSoft users has just launched a 'Net Promoter Score' integration.
"If you're managing a call center, of course you need to know how many calls you've had, how many have been answered, and when they're abandoning. But we are seeing a trend of organizations moving away from that kind of brand-side analytics.
"Customer-side analytics provide a much more relevant picture of the customer's communication experience. On a scale of zero to 10, how likely are they to recommend you? Marry the traditional call metrics with a Net Promoter Score and you really do have 360 degree visibility of your performance and, most importantly, quality data upon which to base workflow change or support agent improvement."
The Kakapo solution produces an over-arching net promoter score that is an aggregation of scores relating to all of the individual components of an organization's communication stack: voice calling, email, messaging, webchat, social media etc. Although a powerful single metric in and of itself, the solution also allows for a granular analysis of quality based on, for example, particular channels of communication, particular times of day, or particular agents.
Of course, many organizations deploy stand-alone net promoter score functionality, but integrating the analysis within an existing reporting solution puts everything in the same place and is a super-smart way of enhancing the overall quality of the output.
"When it's stand-alone, it's separate and siloed," says Tutt.
"Supervisors are rightly managing how many calls have come in and how many have been answered, and all that good stuff. However, all the senior management team wants to know is what the service level looks like. A net promoter score is a number they can instantly get their head around. They see it on a wallboard or an interface amongst all of the other data and they are able to go straight to it. There's no deep processing involved. It's just like: 'OK, what are we looking like here?'"
Thanks to the increased popularity of posting reviews in the B2C space, net promoter scoring is now a B2B thing too. Crucially, brands can often be just one bad review away from reputational degradation. Conversely, a high net promoter score is a large, publicly-accessible check in the box for prospective new customers or clients.
Indeed, simply offering customers the opportunity to post a net promotion score says a lot about a brand or organization; demonstrating accountability and encouraging trust.
"People have become used to leaving reviews and are now more willing to do so," says Tutt. "And people in the business world as well as the consumer space are now seeking out reviews before procuring a product or service or engaging with a brand or organization.
"Other people's experiences matter hugely when making those decisions. That means the ability for organizations to understand exactly how they look to prospective new customers has never been more important."
To learn more about how Kakapo's Vision 360 Net Promoter Score can help your customers' businesses get more from their BroadSoft call center communication analysis, click here.
Original article:  'Integrating Net Promoter Score into your Contact Center written by Simon Wright as featured in UC Today in September 2023