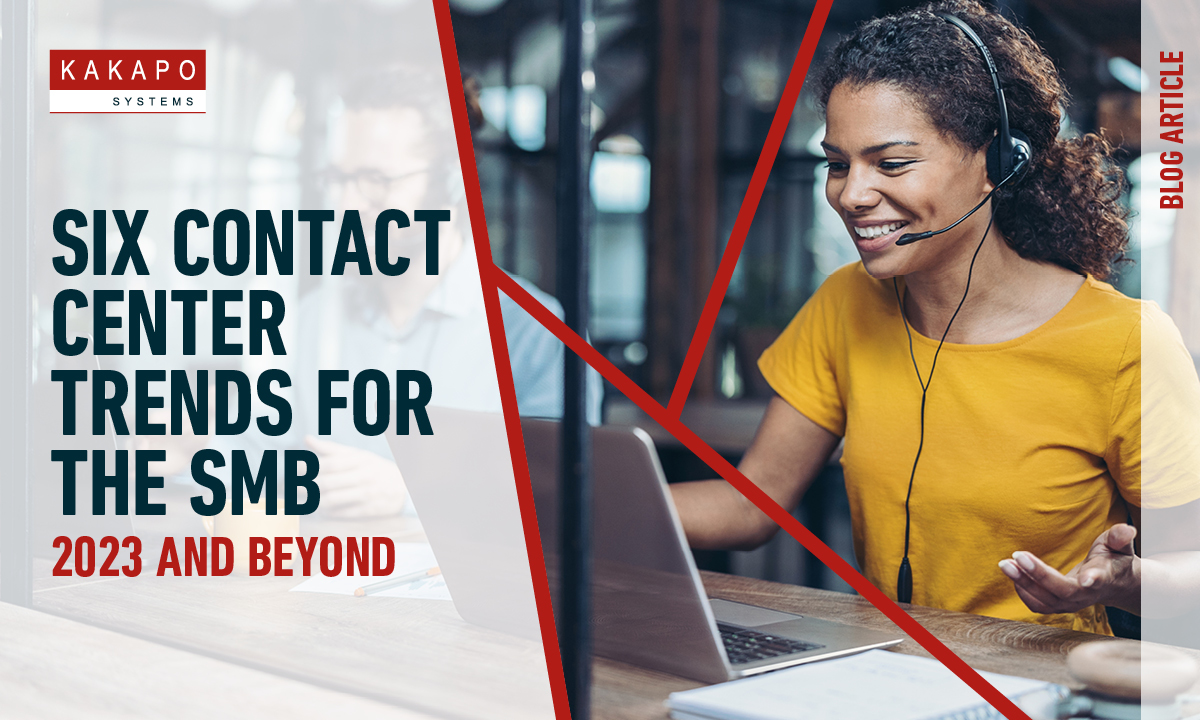 2023 and beyond  is looking to be a potentially challenging, yet productive period for the call and contact center space.  
Trends provide significant insight when establishing a benchmark of how businesses should be operating in contrast to the wider industry. From the perspective of an SMB, trends are also insights into the predicted pathways of their 'big company' counterparts and thus a way to establish in many ways, an equal footing.  Trends concern themselves with finding new, or refined ways of providing the exceptional customer service todays digitally educated customers expect. 
With many trends emerging across the industry, offering options for circumventing looming challenges such as an uncertain economy, predicting the next huge technology to invest within or even determining which strategies to adopt and not. For an SMB, deciding what trends to follow and dedicate their resources to can be a tremendous factor in influencing their success.
The following summary is a list of trends for 2023 and beyond that are most prominent for Small to Medium businesses, taking into account their unique position and access to resources.
Trend 1: The Importance of Cost Reduction and Operational Effectiveness 
As the contact centre software space develops, more solutions are emerging to challenge the 'one-size-fits-all' applications. These have been typically built for larger businesses and do not often target the exact unique requirements of an SMB. As a result, with options increasing, an SMB now has greater choice when looking to invest in contact centre software developed primarily to provide them both reductions in cost and increased operational effectiveness.
Trend 2: The Need to Adapt to a Troubled Economy 
2023 is another year of uncertainty. With predictions of a looming global recession, many businesses find themselves needing to make decisions and determine their strategies for adapting to a potentially turbulent economic period.  
Decisions regarding resources (especially approaching a predicted period of economic trouble), require stringent planning and consideration for all sized businesses. SMBs in this instance, have to explore their options with even greater scrutiny to avoid overextending, stagnating or even failing to survive a tumultuous economy. With success possible for businesses that choose to increase their offering during a recession, an SMB must look for a solution that can strike a delicate balance between expanding their contact centre's horizons whilst reducing costs.
Trend 3: Omnichannel is (still) a Key Focus 
A huge growing focus within the industry. Omnichannel is not necessarily a new concept, but one that is continuing to expand in importance. Omnichannel is allowing contact centers to unify and respond to customers across a wide variety of digital communication channels utilised by customers, in one platform. 
With so many different digital communication channels available to customers and businesses alike, this is where the nuances of an effective omnichannel strategy arise. This is especially the case with an SMB, wherein increasing the number of available communication channels requires a delicate balance between avoiding an overabundance of channels, that could perhaps cause burdens on resources  and exploiting the engagement patterns of customers.
Trend 4: Cloud to Become the Default 
As physical workspaces transform to digital, the need for software solutions that do not require a fixed, physical site for an employee to access their systems grows. Cloud-based applications now offer the two-fold benefits of allowing access to software from a portable device or browser and for essentially infinite scalability. As such, a growing trend is for Cloud-based solutions to be considered the default and for every contact centre of any size, to utilise these applications for the flexibility they provide and their ability to accommodate growth.
Trend 5: Intentional Hybrid Working 
In the aftermath of the Covid 19 pandemic, the worlds requirement to adjust to the 'new normal' has seen sweeping changes to the architecture of office-based working. A key change being the adoption of hybrid working that provides employees with a more flexible approach of where and when they work.  
A subject of much study across many industries, the results and reception by employees largely suggest that hybrid working is both here to stay and a positive change for businesses. Contact Centers are moving to adopt a attitude of intentional hybrid working, where it is not only a residual necessity from the pandemic, but now a standard part of their working patterns. Provided technology and process flows are at a level that can circumvent isolation, this shift stands to improve agent morale and allows a smaller team of agents more versatility to cover wider working hours (a significant boon to an SMB with a smaller pool of agents), and reduces the costs associated with physical offices.  
Trend 6: Improving Customer and Employee Comfort  
In a contact center landscape where the demands of customers continue to increase and the turnover rates of agents remain high, comfort is a critical factor in retention of both employees and customers. Across the industry, the employee experience is now beginning to be looked at as equal to the customer experience, as on many levels these two factors are intrinsically linked. Afterall, a well-equipped, trained and valued agent is more likely to reflect this positive experience upon a customer than one that is hindered internally. 
A concept when exploring this approach is that of comfort flow, which aims to map the internal components of a contact centre that flow into creating a comfortable experience for an agent that can then, in turn, deliver this unto a customer. These influencing factors being a mixture of tools, training and customer-facing quality of life tools that also benefit the agent.  
View Unity Contact Center