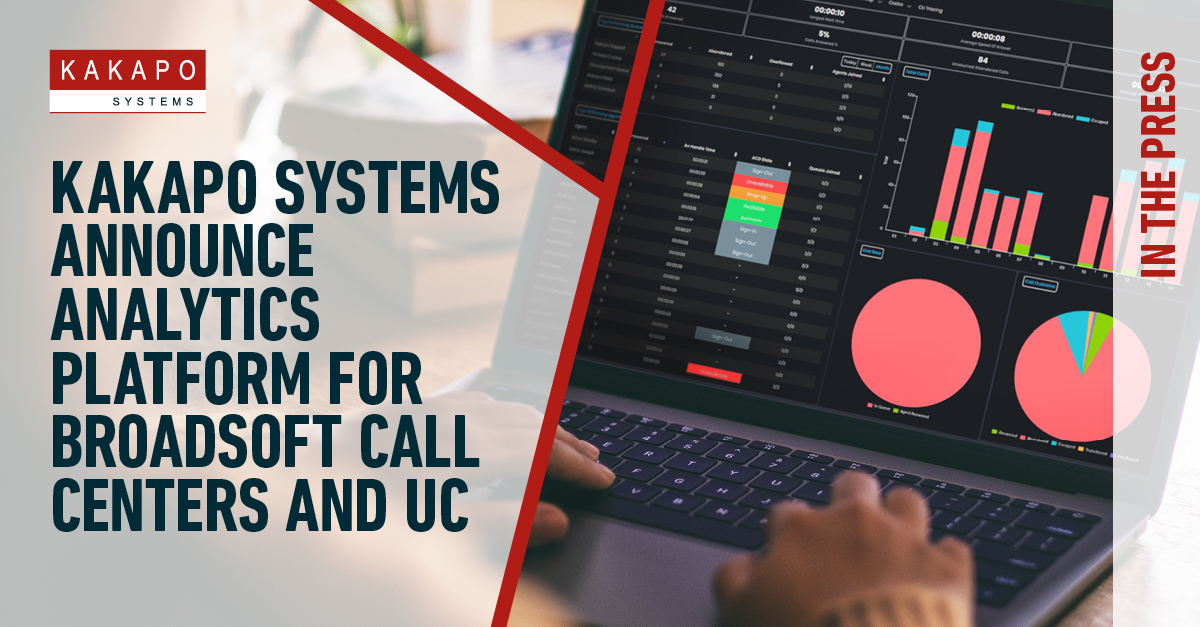 Article: Kakapo Systems Announce Analytics Platform for BroadSoft Call Centers and UC | As featured in UC Today
Data data everywhere, but not a drop to drink, to paraphrase Samuel Taylor Coleridge. Today, it's not "The Rime of the Ancient Mariner" that intrigues us. It's the rising tide of data, especially in the contact center.
"We're swimming in data. There's almost too much of it," said Steve Tutt, Marketing Director at Kakapo Systems. "We need to better understand the customer and agent experiences that underpin those numbers."
Enter Vision360, an analytics platform from Kakapo Systems aimed at contact center and campaign managers. Consider it a lifeline to navigate data-heavy waters.
A View from the Bridge
Developed specifically for the Cisco BroadSoft platform, Vision360 is a comprehensive analytics and reporting platform. Users are greeted with extensive dashboards, along with reports and statistics covering every aspect of a call center.
The dashboard provides a top-down graphical view of inbound calls, average wait times, transferred and abandoned calls. It provides immediate and historical insights into service performance, giving managers the tools to pinpoint successful calls and areas needing improvement.
Abandoned calls, which are one of the biggest challenges call centers face, can be tracked through an Unreturned Abandoned Calls summary. This is all the abandoned calls less those where the caller has subsequently called back, or where an agent has placed an outbound call, which are stripped from the list.
According to Tutt, creating an almost zero-training interface was a key part of the design. "Users with any experience in call center environments will find navigating the reports very intuitive with no configuration required. For BroadSoft service providers there is also nothing to configure, the complete ACD environment in Vision360 is populated automatically from BroadSoft, including all queues and agents."
Additionally, CLI Tracing (Caller Line Identification), otherwise known as cradle to grave, is an important feature that traces the journey of a call throughout the customer journey, documenting its path from agent to agent until call completion.
Tutt emphasizes the importance of this feature: "It can trace where the call travelled through the business. It maps the entire customer journey."
Bridge the Data Gap
The Vision360 platform equips businesses with the ability to visualize their data succinctly and effectively.
It provides a comprehensive data management solution, enabling them to keep abreast of operations in real-time and make data-driven decisions that enhance productivity and customer satisfaction.
"We provide a platform to visualize in real-time what's happening with inbound traffic flows, peaks and troughs and measuring different performance indicators like service levels, so the customer can configure their own, desired outcomes," Tutt explains.
Furthermore, Vision360's analytics capabilities extend beyond the call center operations to provide insights into the performance of auto attendants and hunt groups. This visibility can inform improvements in the auto attendant tree, further enhancing the user experience.
For C-Level Execs, They Look at an Even Bigger Picture
This visibility is essential for C-Level executives who do not need detail, but want an overall picture of service levels and campaign effectiveness across their business, Tutt explained. "Ultimately, Vision360 is about people not data."
Original article: 'Kakapo Systems Announce Analytics Platform for BroadSoft Call Centers and UC' written by John Flood as featured in UC Today September 2023
Click here to discover more about Vision360