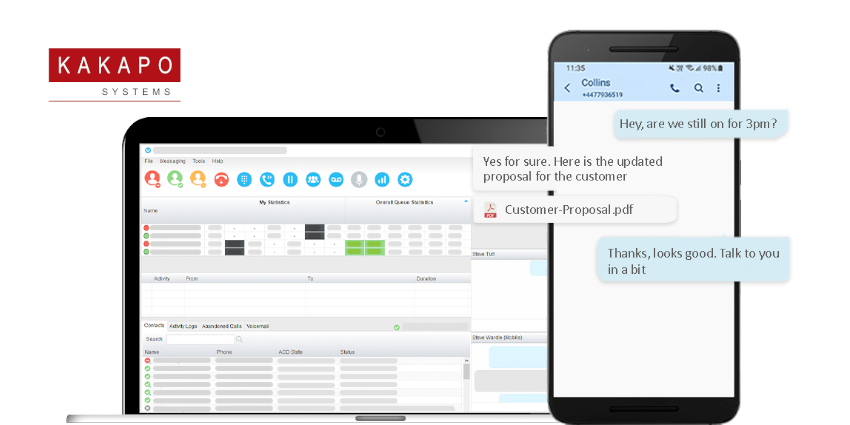 UC Today, Moshe Beauford – November 1, 2019
Available through Kakapo Systems' desktop suite, the new SMS integration lets enterprise end users send/receive SMS messages from the Unity console. The Unity SMS connector is only available in the United States. Steve Tutt, Marketing Director at Kakapo Systems says
"North America is a region of the world that still prefers communicating using SMS over third-party texting/calling apps like WhatsApp and Viber. SMS is still the default messaging platform for everyone in the U.S."
With the launch of its SMS integration, Kakapo Systems now enables end users to send and receive text messages using any of its Unity Unified Communications offerings for desktops in a hosted PBX environment, and via Unity Reception. "We're trying to build everything into a single unified interface for inbound/outbound comms and third-party platforms such as CRMs. We want our users to have one platform to manage all of their communications workflows," Tutt added.
How Does Kakapo Systems New SMS Integration Work?
Kakapo plans to roll out its latest integration in two phases, addressing two paramount markets: enterprise end-users and contact centers. In its first iteration, Kakapo's SMS integration will let all end users including reception and office workers to send text messages to others within a business setting. If they need to alert someone a guest has arrived, for example. They can even send a text to HR to inform them that their next interviewee is running late.
So, how does it work? Tutt told me, they have teamed up with Telestax, the leader in CPaaS enablement for communication service providers. This means that service providers can keep their existing relationship with Telestax and use Unity apps as the customer front-end to send and receive messages and attachments.
Once Kakapo releases its second version of the API, it will be geared toward contact centers, and work similarly to its slew of recent customer-focused updates such as Twitter Queues. Kakapo's SMS integration will let agents and management, send, receive, and route SMS messages. For contact center decision-makers who want to enhance the customer experience, this will bring them one step closer to realizing their enterprises' true omnichannel potential and delighting customers along the way.
According to Tutt, enterprise users can send attachments and standard business documents with the new SMS integration, which relies on SMS messages and not MMS messages, so enterprises don't accrue additional charges.
The Telestax Advantage
Tutt shared when developing its SMS integration, Telestax presented a particular competitive advantage for Kakapo's U.S. based customers. Telestax has signed deals with nearly-every major telecom provider in the U.S., which allows them to SMS-enable existing mobile phone numbers. This means service providers don't have to use a separate SMS number which allows them to SMS-enable existing DID phone numbers.
Telestax and Unity end users now have a one-number solution where customers can send/receive SMS messages as well as make and receive calls with the same number and UI, greatly catering to user experience. For sales and customer service purposes, the perks of such an integration are endless and can help create a more seamless communications journey by presenting another worthwhile medium into the omnichannel equation.
Save your spot for Kakapo Systems' upcoming SMS Integration demo webinar Nov. 13, at 12:30 p.m. EST.