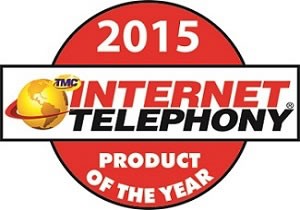 London, United Kingdom, Jan 23, 2015 — Kakapo Systems announced today that TMC, a global, integrated media company, has named Unity Reception as a recipient of a 2015 INTERNET TELEPHONY Product of the Year Award.
Steve Tutt, Marketing Director says "We are delighted with this recognition from TMC. Communication is becoming less device centric, with apps like our Unity Reception adding a layer of smarts and elegance to customer interaction."
Unity Reception is a front-desk application for the BroadSoft BroadWorks platform. Tutt adds "This gives our BroadSoft service provider customers an enhanced productivity option for busy reception scenarios with the presence, alerting and messaging tools to optimize the inbound customer experience".
"It gives me great pleasure to recognize Kakapo Systems with a 2015 Product of the Year Award for its commitment to excellence and innovation," said Rich Tehrani, CEO, TMC. "In the opinion of our distinguished judges, Unity Reception has proven to be among the best communications and technology solutions available on the market. I look forward to continued innovation from Kakapo Systems.
The winners of the 2015 INTERNET TELEPHONY Product of the Year are featured in the 2015 January/February issue of INTERNET TELEPHONY magazine and online at www.itmag.com.