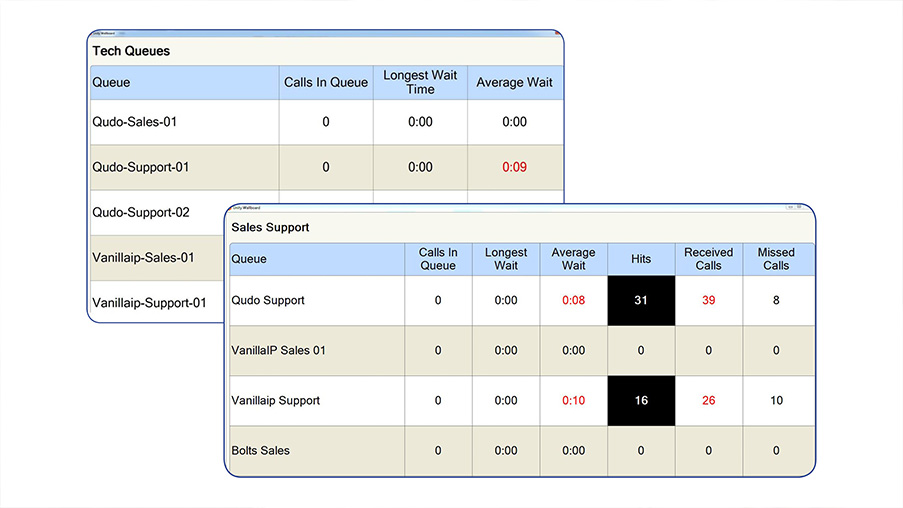 Kakapo Systems, a leading developer of desktop applications for VoIP platform integration, today announced that it will demonstrate its Unity Wallboard application at BroadSoft® Connections 2011: Crush It! being held at the JW Marriott Desert Ridge Resort in Phoenix, Arizona, October 16 – 19.
LONDON, UNITED KINGDOM and PHOENIX, ARIZONA — (Marketwire) — 10/17/11 — BroadSoft Connections 2011 – The Unity Wallboard displays information on large screens in call centers so agents and supervisors may track the real-time status of the queues including calls in queue, average wait time, missed, received, answered calls and other information. The application extends the current Unity Agent and Unity Supervisor applications for an end-to-end call center solution for BroadSoft's service provider customers. The Unity Wallboard is a standalone application that may be used by any customer and is not limited to usage with Unity clients.
Steve Tutt, marketing director at Kakapo Systems, said: "Our Unity Wallboard is highly configurable and can display any number of queues and reporting metrics. In addition, it features alerts that notify call center supervisors and agents when set parameters are breached. This application builds on the underlying power of BroadSoft's BroadWorks® Call Center solution and gives service providers a key advantage in capturing new business."
He continued, "As a Solutions Showcase sponsor for BroadSoft Connections, we are excited to participate and to have the opportunity to network and share ideas with BroadSoft's service providers."
BroadSoft, Inc. (NASDAQ: BSFT) is the leading global provider of software that enables mobile, fixed-line and cable service providers to deliver real-time communications over their IP networks. The firm's BroadWorks platform delivers a broad range of unified communications services including video, voice, hosted call center, conferencing, messaging and mobility, for businesses and consumers worldwide.
"We believe the Unity Wallboard is an excellent example of how our call center partners are leveraging the open APIs on BroadWorks to enhance our Call Center solution," said David Bukovsky, vice president products, BroadSoft.
The BroadSoft Connections 2011 conference brings together telecommunications service providers, network equipment providers, web developers, and IP device manufacturers to collaborate, network and engage about the latest industry trends including unified communications capabilities for businesses and consumers as well as associated mobile communication applications. For more information about BroadSoft Connections, visit: www.broadsoftconnections.com.