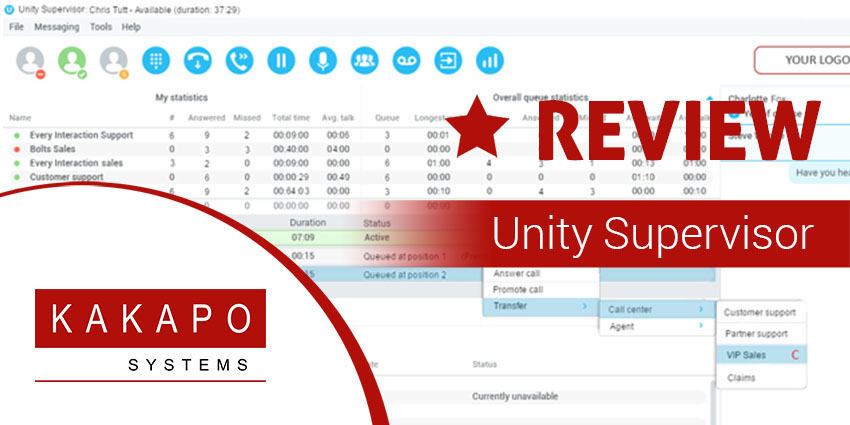 UC Today, Anwesha Roy – October 13th 2019
Kakapo's offering for contact centre leaders blends 360-degree call functionalities with powerful workforce management tools
Kakapo is fast carving a distinct niche in the contact centre segment. The company started in 2006, with a desktop app for contact centres, progressing into agent-specific platforms. In 2010, Kakapo Unity Supervisor was launched to offer contact centre managers greater control and visibility across their workforce.  
Kakapo has been consistently rated as a Leading Provider in Contact Centre Technology, mentioned in our UC Awards 2018 – Podcast with Steve Tutt. It also won the Product of the Year award from TMC in 2015, as well as the Internet Telephony Product of the Year.  
Today, we are reviewing its contact centre offering for team leaders – the Kakapo Unity Supervisor. 
Inside Kakapo Unity Supervisor
Like the rest of its solutions, Kakapo Unity Supervisor is built on BroadSoft's networking systems, making its vast repository of telephony features available in an attractive user interface. Some of BroadSoft's core features available on Kakapo Unity Supervisor are:  
Busy Lamp Field for contacts, indicating the status of a particular extension
Click-to-dial on browsers for seamless call switching
Call recording control to maintain performance quality
Voice mail access for lead gathering and follow-up
In-app chat/messaging to stay connected with the larger workforce
In addition to BroadSoft's built-in tools, Kakapo Unity Supervisor overlays a number of additional capabilities to improve performance. These are: 
Call Centre Management – You can view pending calls and staff availability on a colour-coded dashboard, empowering better decisions around call routing. Optimisation of contact centre resources is among the biggest USPs of Kakapo Unity Supervisor
Thresholds and Alerts – You can customise performance parameters (or thresholds) to know exactly when the numbers have dipped below average. Agents can be guided accordingly in the right direction, improving performance
Abandoned Capture – This nifty feature lets Unity Supervisor automatically convey the caller details of abandoned calls. Team leaders can assign the customer for call-back to a specific executive, depending on their availability
Personal Wallboard – The Wallboard has consistently been named as a differentiator for Kakapo. Every agent has their own board, displaying call histories, ongoing activity, and tasks on queue. These metrics are available at a glance on the Supervisor wallboard
Agent Management – Kakapo Unity Supervisor lets you force-change an agent's automated call distribution (ACD) state, making them available or allocating breaks as per demand patterns. We found this feature extremely relevant when it comes to keeping the workforce engaged and enthused
Escalation – Not only will you be alerted to escalation needs, but you can also interrupt ongoing calls and assist an agent if so necessary 
Customisation – You can customise the user interface by selecting from 40 agent and queue statistics. These will be visualised on the primary dashboard, while other metrics are continually recorded behind the scenes
Reports & Analytics – Kakapo Unity Supervisor auto-generates 20 historical reports so that you are always updated on workforce performance and problem areas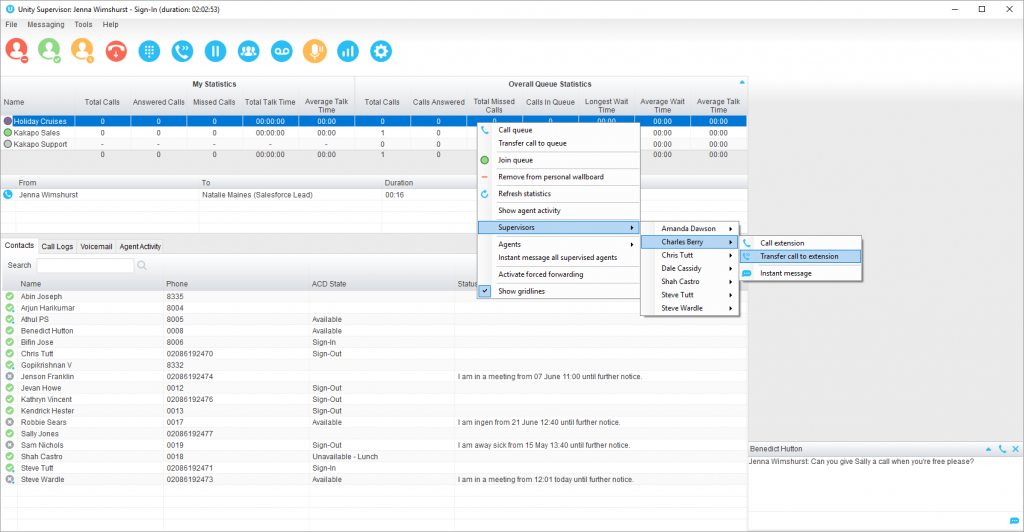 Why Kakapo Unity Supervisor Makes a Difference 
Kakapo Unity Supervisor brings together the best of both worlds. There is BroadSoft's signature communication system, on the one hand, ensuring you have all the tools you need, to run day-to-day contact centre tasks. There's also a rich data visualisation layer which compresses the relevant information into a comprehensible snapshot.  
Here's what we liked most about Kakapo Unity Supervisor:
– You never miss an instance of exceptional performance, duly course-correcting and recognising your workforce
– Agents aren't overburdened or left sitting idle, thanks to real-time ACD status updates
– Control is always in your hands, and you don't have to wait for your agent to escalate
– There's no manual effort involved in transferring abandoned calls
– You can pick and choose the metrics that you want to view on your home screen, depending on your near-term and long-term goals
What We Think 
Contact centres are highly dynamic work environments requiring supervisors to always stay on their toes. Kakapo Unity Supervisor makes this significantly simpler by giving you a single, comprehensive picture of performance – both for individual agents as well as the enterprise. We feel it's the right mix of control and workforce empowerment, allowing you to take discretionary actions as well as highlight outstanding performance.  
Finally, its excellent reporting capabilities out of the box make Kakapo Unity Supervisor an ideal solution for contact centres looking to streamline how they manage everyday interactions.