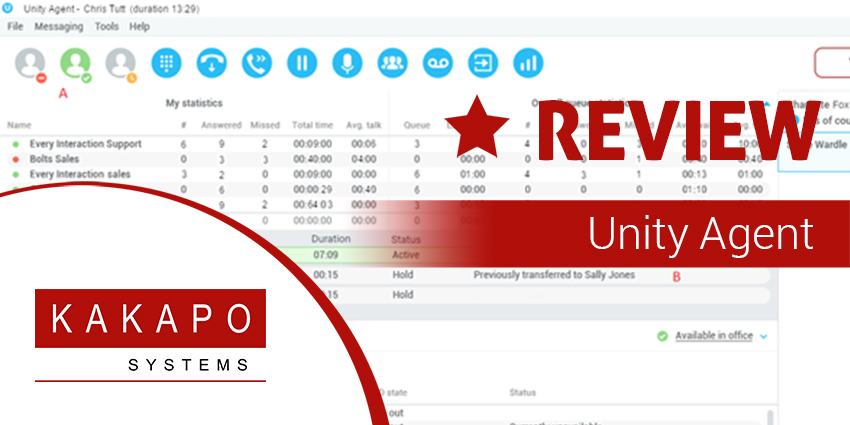 UC Today, Anwesha Roy – October 15, 2019
Helps call centre executives make better decisions around customer relationships
Kakapo Systems is a software development firm specialising in user applications for BroadSoft. They have been developing desktop UC and call centre apps for BroadSoft service providers, and undertaking custom development, since 2006. Kakapo Systems unveiled their Unity Desktop in 2008 and launched Unity Agent a year later.  
The company has received several awards including Internet Telephony Product of the Year, and Unified Communications Product of the Year.  
Kakapo Systems Unity Agent is a role-specific application that lets call centre executives make better decisions around customer relationships. Let's review the many features of the Unity Agent in greater detail.  
Inside Kakapo Systems Unity Agent
Unity Agent adds another layer of functionality over the standard Desktop features. These basic features include:  
A detailed contacts directory  
Click to dial support on browsers 
Superior control over call recording  
chat/message during service calls 
Hot desking and flexible seating  
Apart from this, the Kakapo Systems Unity Agent offers several new capabilities for contact centre agents:  
– Personal Wallboard – You can see all service requests on the queue such as longest waiting calls, tweets, webchats, and calls already answered. This can be either agent-specific or aggregation of metrics from across the contact centre
– Queued call list – Not only does this list display all pending calls, but they are also categorised into Leads and Accounts. This is enabled by Unity's CRM Connector, allowing smarter routing of business-critical interactions
– Thresholds – You can view a graphical representation of call centre performance, measures against pre-set thresholds. As performance dips or exceeds beyond a threshold, it is highlighted via colour-coding
– Team ACD state – You can take a look at the automated call distribution (ACD) state of 30 agents, understanding their availability. These are updated in real-time so that calls can be routed to idle executives for better overall performance

– Disposition codes – Unity Agent imposes a "forced" disposition code as soon as an executive switches to Available ACD status. This means that for every call, you're collecting performance metrics to ensure accurate analytics and reporting
– Abandoned call-back – This is a nifty feature for any contact centre, dramatically reducing the effort required to initiate call-backs. Agents can access a ready list of abandoned caller details, and then simply click to connect. The list is automatically updated to indicate that a request has been processed
– Templates – You can group all agents with similar statistics and thresholds to streamline task assignment. Templates come preconfigured – but you can also optimise them as necessary
– Escalation – In case of challenging scenarios, agents can immediately alert supervisors without interrupting an ongoing customer interaction
Why Kakapo Systems Unity Agent Makes a Difference
On the surface, Unity Agent is a pretty simple call centre offering, comprising basic telephony, performance dashboards, and supervisory control. However, it performs astonishingly well under the hood. Small details such as template saving to the cloud can help you save a lot of time and effort. We also liked the easy abandoned call capture facility – an essential for any contact centre executive.  
The best thing about Kakapo Systems Unity Agent is probably its smart interface. Despite so many features on a single window, Unity Agent never looks cluttered, thanks to its cutting–edge data visualisation capabilities. Performance is colour-coded so that supervisors can monitor granular and overall performance in a single snapshot. The Wallboard is extremely useful, allowing agents to view the details of historic and pending calls. There is also an active call window, which helps to control interaction routing at a click.  
Finally, Unity Agent supports enterprise-specific branding, with your company logo boldly appearing at the top right corner. This instils a sense of ownership and accountability among the workforce.  
What We Think 
Contact centre management is an intricate matrix of business telephony, task scheduling, and workforce orchestration. Unity Agent does exceptionally well in all three counts. The docked instant messaging screen on your right-hand side is particularly helpful when you need to reach out to a colleague on-the-fly. All the data is visible at a glance, without needing to sift through complex reports or spreadsheets.  
All told, we found Kakapo Systems Unity Agent to be a highly capable and comprehensive platform for content centres of any size, bringing agent-specific features on top of Kakapo Systems' Unified Communication desktop app.