Inbound & Outbound
Combine ACD and outbound stats for customers that utilize a blended Agent workload.
Statistics include Inbound Calls, Outbound Calls, Outbound ACD Calls and Total ACD Calls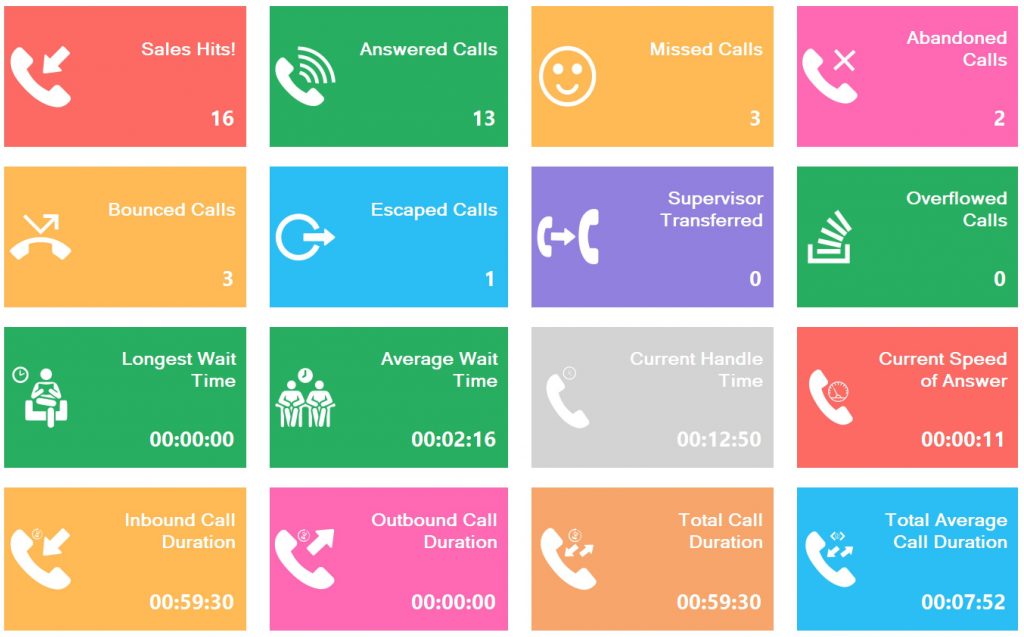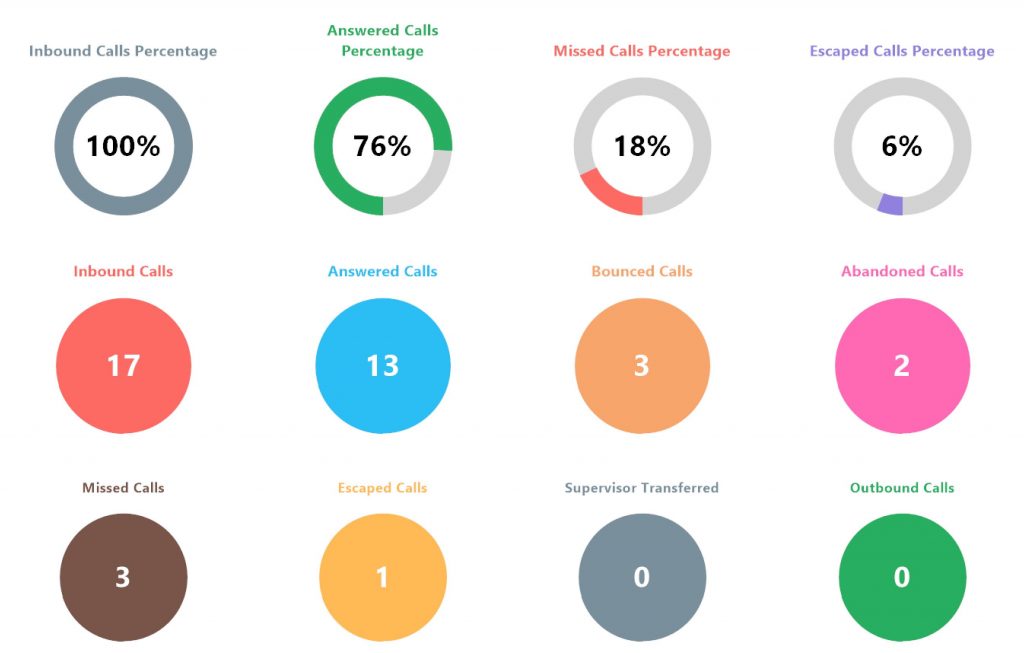 Thresholds & Alerts
All statistics can be configured with colour based alerts, graphically highlighting problems for immediate attention.
Graphical elements include Badges and Tiles, Graphs and Charts and Full and Half Gauges.
Configurable Statistics
Dashboard can be configured from over 80 statistics to highlight metrics that are important to you.
Available in both Tabular and Graphical options, Unity Dashboard let's you control how your key statistics are presented.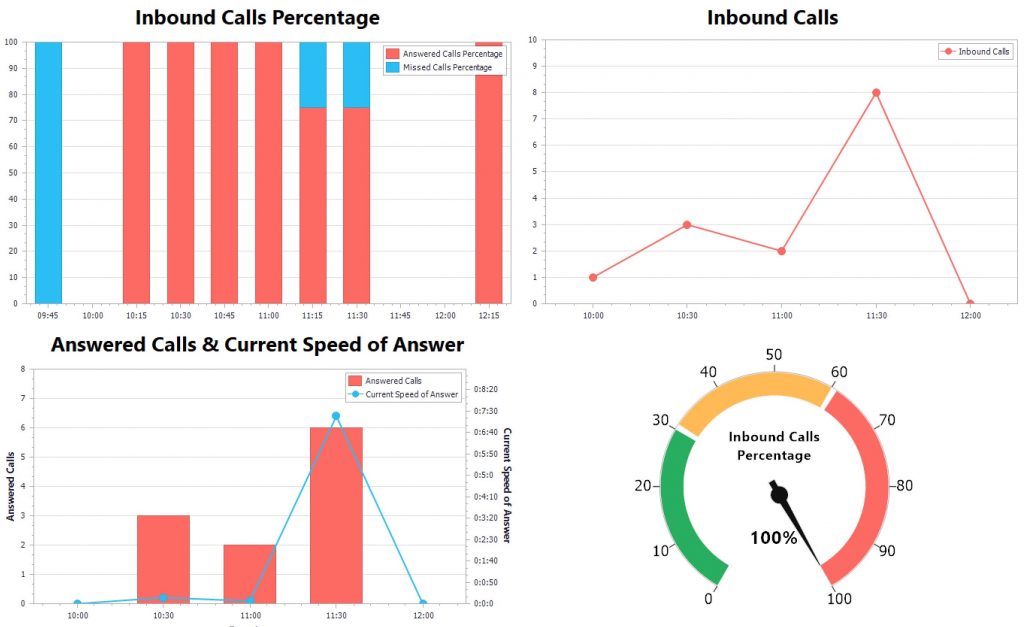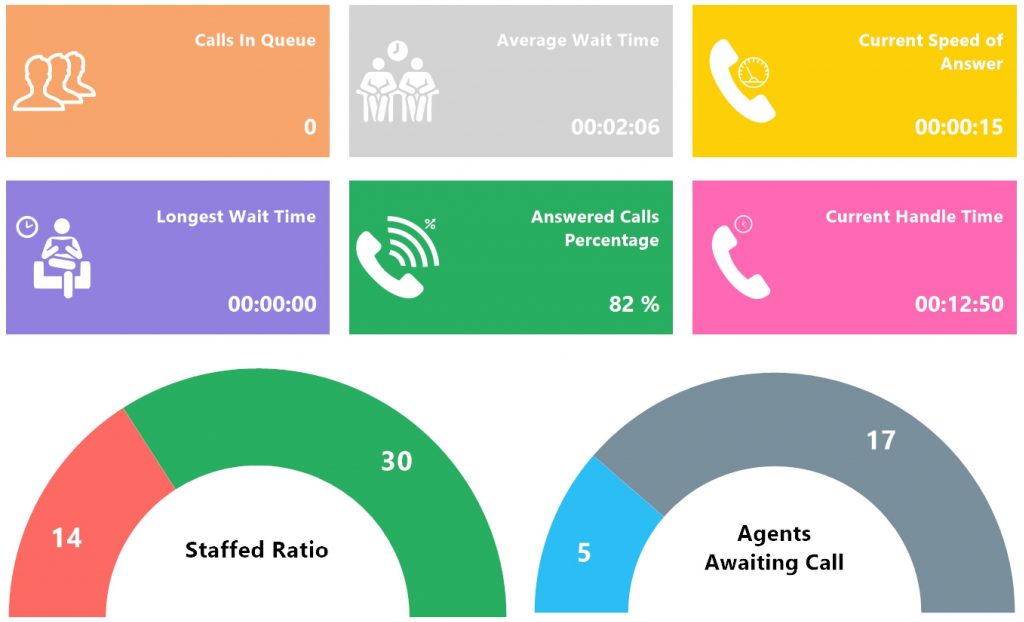 Key ACD Stats
See essential ACD statistics to understand quickly how the agents and call centers are behaving .
Statistics include Calls in Queue, Longest Wait Time and Abandoned Calls.
Agent Gamification
Encourage self-management and competition among Agents with Dashboard as the leader board.
For example the top 5 Agents based on answered calls or the top 10 Agents based on outbound ACD calls.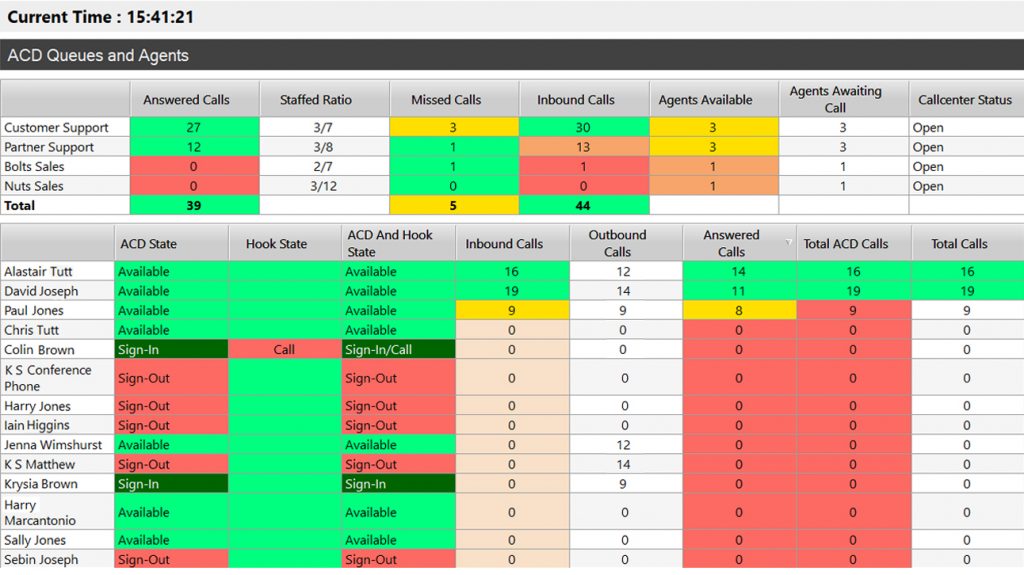 Supported Features

Thresholds & Alerts
All queue and agent stats can be configured with a wide range of colour based alerts, graphically highlighting  problems that require attention

Agent Gamification
Encourage self-management and competition by using Dashboard as a leader board, e.g. show the top 5 agents based on total calls answered
Configurable Statistics
Configure over 47 essential and desirable statistics to highlight metrics across the call center that are important to you

Queue Statistics
Stats include inbound calls, answered calls, calls in queue, average abandoned time, overflowed calls, service level and agents available

Agent Hook and ACD State
Agent statistics include inbound calls, ACD state, total call duration, outbound total calls, transferred calls, idle time and many more

Key ACD State
Optionally display all Agents ACD state and engaged/free status. Summarise this with Agents Awaiting Call and Staffed Ratio gauges

Scrolling Views
Different views can be configured with different stats, call center resources and layouts which can be set to scroll providing ultimate flexibility

Tabular & Graphical View
With detailed tabular breakdowns and a range
of bar charts, gauges, tiles and badges, Unity Dashboard provides an engaging visual interface