Introducing Unity Mobile, Salesforce Edition. Allowing you to integrate your Salesforce platform with Unity Mobile to extend the capabilities of BroadSoft, Unity Desktop and the CRM connector all in one advanced mobile app.
Already a Unity Mobile user? Simply add the CRM Connector license to upgrade to the new Salesforce Edition
Search through all your Salesforce Contacts and Leads in Unity Mobile and save them to your favourites.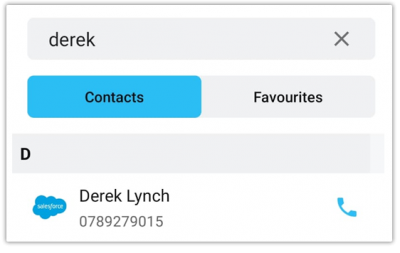 Quickly identify missed calls and voicemails from Salesforce Contacts and Leads with the SF logo
Tap the icons to send SMS messages and emails to Salesforce Contacts using your device's native apps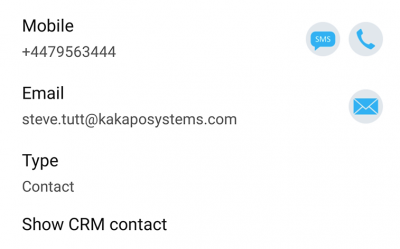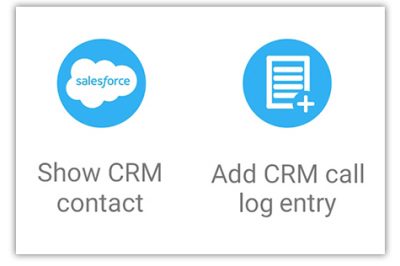 Perform Essential Actions
Show the CRM contact in Salesforce and add text to the call
log entry during live calls
See which colleagues are available to call, conference and message them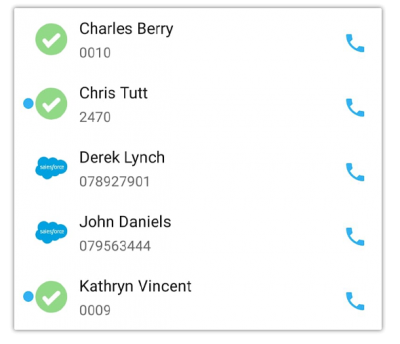 Supported Features

BroadSoft Call Control
Unity Mobile call control buttons allow the user to access the host BroadSoft system and easily perform Hold/Retrieve, Transfer and Conference

Instant Messaging
All users of Unity Mobile, Unity for Windows and the Unity Web Apps can directly instant message each other even when someone is offline

BroadWorks Directories
Unity Mobile will provide dynamic to all Group directories, including internal users, personal speed dials and common phone list

Calling Options
Users can set preferences for Call Through, Callback, use Unity Mobile or choose on a call by call basis to perform calls

Call Center Agent
Call Center Agents can toggle their ACD state from Available, Unavailable and Wrap-up, choose Unavailable codes and join and leave queues

Call Recording Control
Users with the Call Recording service can Pause, Start and Resume the call recording service from the Active Call Window

Contacts Presence
Other monitored users Available/Engaged hook stat is displayed in Contacts when the user is connected to wifi

Pull Call
Calls that have been set-up on a desk IP phone can be pulled, live and seamlessly to Unity Mobile without the call participants realising

Supported Mobile Platforms
Unity Mobile is supported on both Android and iPhone devices.